<![if !vml]>
<![endif]>  FRANK  S.  TAYLOR  NAVY AND  FAMILY  HISTORY.NET  <![if !vml]>
<![endif]>
WILLIAM "BILL" TOUGH
LEADING STOKER
19th June 1935 – 9th April 1937
 Royal Navy
Born in Glasgow, Scotland 1911 and passed away 26 September 1982
<![if !vml]>
<![endif]>
Royal Navy Career Veteran 1929 - 1946
<![if !vml]>
<![endif]>
HMS Tarantula – China Station
Author's Note
In September 2013 we received a communication from Miss Tara Tough from Toronto, Ontario. She is the grand-daughter of William Tough and had come across our website. She has kindly sent us the following information and photographs.
<![if !vml]>
<![endif]>
Mary (May) Inglis Kennedy Tough and William (Bill) Tough
Married on May 20th 1938 in Glasgow, Scotland
"I have heard back from my Aunt in Scotland about my Grandfather. She mentioned a story, which my Dad confirmed, about a ship (I don't know which) he was on that was torpedoed with very few survivors. Before this happened he asked for shore leave for his birthday and was refused. A couple of his mates persuaded him to jump ship so they could celebrate. Was this fate?
She also said he was in America, the Middle East and China. He was in the Sinai Desert (Egypt I think) 1940 to 1941.
My Dad told me that he boxed in the Navy and remembers a picture of him posing in his boxing trunks. I asked my Aunt about the pictures but she doesn't have them. She did confirm what my Dad said about him going to New York to visit Jack Dempsey's."
Tara Tough further advises:
My Grandfather's Mom died in 1924 when he was only 13 years old. I have a copy of their birth/death records from Scotland) and his father died in 1940. I wonder if he was away at sea when that happened. Also his first born child, a daughter, died as an infant approx. 6-9 months old between 1939 and 1943.
William Tough was survived by his four children Graham, Stuart, Fraser (my dad), & Elizabeth. (two of whom live in Canada)
On a sad note, Graham Tough (William's oldest son) died on March 3rd 2014 in Glasgow (born Mar 10 1943).
<![if !vml]>
<![endif]>  <![if !vml]>
<![endif]>
     Fraser, Graham and Stuart Tough in Glasgow                                                   Fraser and Elizabeth Tough
His three Granddaughters Traci, Tara, & Brittany were all born and live in Canada and his four great-grandchildren Jaiden, Marlee, David, & Isabella were also born and are living in Canada.

<![if !supportLineBreakNewLine]>
<![endif]>
<![if !vml]>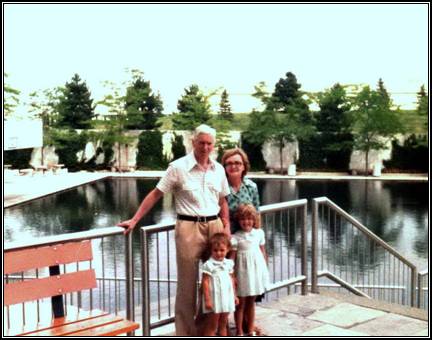 <![endif]> <![if !vml]>
<![endif]>
                 Tara Tough (Our Website Contributor) and her older sister                  Traci, Fraser and wife Sharlene (Tara's parents) and Tara                               
                  Traci with their grandparents William and Mary on a visit
                                      to Toronto, Canada about 1980.
<![if !vml]>
<![endif]>
Fraser & David in March 2014.
William's son and great-grandson.
HM Ships served on:
HMS Pembroke

HMS Cumberland

HMS Pembroke

HMS Fitzroy

HMS Pembroke

HMS Orion

HMS Tarantula

HMS Pembroke

HMS Cardiff

HMS Caledonia

HMS Pembroke

HMS Dragon (Curlew)

HMS Pembroke

HMS Caledonia

HMS "Pembroke"

HMS Royal Sovereign

HMS Nile (Wryneck)

HMS Carlisle

HMS Phoebe

HMS Pembroke

HMS Badger (No 2 Unit)

HMS Badger (Sunk Head Fort)

HMS Pembroke

HMS Cochrane

Shore

Cruiser

Shore

Survey Ship

Shore

Cruiser

River Gunboat

Shore

Cruiser

Training Ship

Shore

Cruiser

Shore

Training Ship

Shore

Battleship

Destroyer

Cruiser

Cruiser

Shore

Shore

Naval Fort

Shore

Shore

24 Aug 1929

18 Feb 1930

31 Jan  1933

28 Mar 1933

  6 Dec 1933

16 Jan  1934

19 Jun  1935

10 Apr  1937

13 Oct  1937

10 Feb  1938

20 Jun  1938

19 Oct  1938

16 Nov 1938

12 Jan   1939

26 Apr  1939

27 Apr  1939

11 Aug 1940

31 Jan   1941

  2 Oct  1941

18 Feb  1942

  1 May 1942

18 Feb  1943

22 Jun  1945

12 Jul   1945

To

To

To

To

To

To

To

To

To

To

To

To

To

To

To

To

To

To

To

To

To

To

To

To

17 Feb 1930

30 Jan  1933

27 Mar 1933

  5 Dec 1933

15 Jan  1934

  6 Sep 1934

  9 Apr 1937

12 Oct 1937

  9 Feb 1938

19 Jun 1938

18 Oct 1938

15 Nov1938

11 Jan  1939

25 Apr 1939

26 Apr 1939

10 Aug 1940

30 Jan  1941

  1 Oct  1941

17 Feb  1942

15 Apr  1942

17 Feb  1943

21 Jun  1945

11 Jul   1945

  8 Jan   1946
Notes to service Record:
HMS Pembroke was the name given to a shore barracks at Chatham
HMS Fitzroy was a survey ship launched in 1919 and later a minesweeper when she was sunk in 1942.
HMS Orion was commissioned on 18 January 1934, for service with the Home Fleet
HMS Cardiff  HMS Cardiff (D58) was a C class light cruiser launched in 1917 and broken up in 1946.
HMS Caledonia was a cadet training ship, formerly the liner RMS Majestic (1914). She was transferred to the navy in 1936 and commissioned in    
         1937. She was burnt by accident in 1939. The wreck was raised and scrapped in 1943.
HMS Dragon (Curlew) HMS Curlew was a C class light cruiser. HMS Dragon formed part of the reserve fleet based at Nore at this time.
          It is assumed that HMS Curlew was assigned with her.
HMS Royal Sovereign (pennant number 05) was a Revenge-class (also known as Royal Sovereign and R-class) battleship displacing 28,000 metric    
          tons and armed with eight 15-inch (381 mm) guns in four twin turrets. She was laid down in January 1914 and launched in April 1915.
HMS Nile (Wryneck) HMS Wryneck was an Admiralty W-class destroyer which was sunk during the Battle of Greece on 27 April 1941
HMS Carlisle was a C-class light cruiser named after the English City of Carlisle. She was the name ship of the Carlisle group of 
          C-class of cruisers. Carlisle was credited with shooting down eleven Axis aircraft during the Second World War, and was the top scoring anti-
          aircraft ship in the Royal Navy.
HMS Phoebe was a Dido class light cruiser. She was built by Fairfield Shipbuilding and Engineering Company, her keel was laid down on
          2 September 1937. She was launched on 25 March 1939, and commissioned on 30 September 1940. In April 1941 she was transferred
          to the 7th Cruiser Squadron in the Mediterranean. Enemy-held territory here was to keep the British Fleet busy for the next two and half years,
          and Phoebe was to have her fair share of the action. One of her first operations was the evacuation of troops from Greece and Crete, which was
          followed quickly by the Syria landings and transporting troops to and from Tobruk, where she was torpedoed by an Italian plane and went to
          the USA for repair. The damage she sustained put her out of action for eight months.
HMS Badger was commissioned on 13 September 1939 as the headquarters of the Flag Officer In Charge, Harwich and was decommissioned on
          21 October 1946. In its early days it provided a base for minesweepers, but by the end of 1940 also serviced a destroyer flotilla, a 
          submarine squadron and a Coastal Forces Motor Torpedo Boat base, becoming the largest base for small craft in the United Kingdom.
Sunk Head Fort – See below
HMS Cochrane Shore Establishment
Service Record
<![if !vml]>
<![endif]> <![if !vml]>
<![endif]>
Click to enlarge
HMS Tarantula
1935
<![if !vml]>
<![endif]>
Ship's Complement HMS Tarantula circa 1937
Click to enlarge
<![if !vml]>
<![endif]>
HMS Tarantula in dry dock – Hong Kong
Click to enlarge
<![if !vml]>
<![endif]>
HMS Tarantula Launch coming alongside at Shanghai
Note: The Tarantula Life Buoy
<![if !vml]>
<![endif]>
HMS Tarantula at Hong Kong "Dressed for the Occasion"
Click to enlarge
HMS Tarantula at Hong Kong
<![if !vml]>
<![endif]>   <![if !vml]>
<![endif]>
                                                              Bill Tough (left) with shipmates                         Crew Member on Tarantula
<![if !vml]>
<![endif]>
Bill Tough (right) with other crew members on Tarantula
HMS Cumberland
1930
<![if !vml]>
<![endif]>
Shipmates on HMS Cumberland 1930 - 1933
<![if !vml]>
<![endif]>
Shipmates on HMS Cumberland 1930 - 1933
<![if !vml]>
<![endif]> 
YOKOHAMA BOWL
William Tough was a member of the rowing team from HMS Cumberland which won the Yokohama Bowl in 1931. The Bowl was a trophy competed for by ships of the China Station who were present in Wei Hai Wei (Hong Kong) for an annual regatta. From all accounts this was a very hard fought competition. In the following item from the Navy News of May 1980 Captain Fletcher alludes to the ferocity of the contest "and sincerely hope their fillings are still in place,"
NAVY NEWS. MAY 1980
YOKOHAMA BOWL IN SEA GRAVE?
The mystery of the Yokohama Bowl has been solved - or so it seemed when Navy News received a letter from Surg. Capt. (D) K. E. J. Fletcher, R.N. (retd.), of Anstey Cross, Dorchester. Readers had been wondering what happened to the Bowl, and Capt. Fletcher wrote saying that correspondents should have their minds put at rest.
"This trophy" he said "was brought home to Portsmouth on May 17, 1939 and to my knowledge is now in the wardroom of H.M.S. Nelson. The Bowl was won by H.M.S. Suffolk in 1937 with 364 points to the Capetown's 355 and Danae's 306. In 1938 the Suffolk won again, with 187 ½ points to the Dorchester's 146 and the Birmingham's 144 ½ "
Signing himself "Toothy" Capt. Fletcher refers to some of the Suffolk's competitors and adds: "One must of course send one's regards and sincerely hope their fillings are still in place." Alas, Capt. Fletcher, while the fillings may still be available for inspection, the Bowl is not. As far as the H.M.S. Nelson trophy store is aware, the Bowl is not on the premises.
EARTHQUAKE
Another correspondent about the Yokohama Bowl was ex-Chief Stoker W. L. Collins, aged 85, of Cricklewood, London, "an ardent reader of Navy News who at last found a topic upon which he could be of some enlightenment." His letter was most welcome, explaining that in 1920 he was serving on board H.M.S. Marazion attached to the Fifth Submarine Flotilla. During the Fleet's summer stay at Wei Hai Wei ( Hong Kong) the Yokohama earthquake occurred, and in recognition of the services rendered by the Royal Navy, the ladies of Yokohama presented the Bowl to the China Fleet,
In 1925 the Bowl was aboard H.M.S. Hawkins, adorning the wardroom, and having two "duties". First it was used as the "highest points" regatta prize, and secondly as the "trophy" for the officer with the biggest wine bill,
HMS DORSETSHIRE
It seems to be generally believed that the Bowl was won by H.M.S. Dorsetshire just before the war, and that the trophy was probably on board the cruiser in 1942, when she was sunk by enemy action in the Indian Ocean.
Also from Stoker Tough's time on HMS Cumberland were two photos which read:

"In Memory Of James Platt Stoker 1st Class HMS Cumberland
Died at Wei Hai Wei 10th July 1930 Aged 27 years. Erected By His Shipmates"
<![if !supportLineBreakNewLine]>
<![endif]>
<![if !vml]>
<![endif]>
Click to enlarge
<![if !vml]>
<![endif]>
Click to enlarge
1918-1939 - Casualty Lists of the Royal Navy and Dominion Navies (www.naval-history.net) has the following information.
PLATT, James, Stoker 1c, K 64537, Cumberland, 10 July 1930, illness
We have been unable to find any further references but judging from the photographs the funeral was a very serious affair.
The Cumberland Crown (ship's emblem) is evident immediately above the Honour Guard beyond the grave itself
and both civilians and Senior Officers are present as well as the ship's complement in dress uniform.
<![if !vml]>
<![endif]>
IN MEMORY OF JAMES PLATT
STOKER FIRST CLASS
HMS CUMBERLAND
DIED AT WEI HAI WEI 10TH JULY 1930
ERECTED BY HIS SHIPMATES
Click to enlarge
<![if !vml]>
<![endif]>
HMS Cumberland – Christmas 1930
Admirals Yacht
1931
<![if !vml]>
<![endif]>  <![if !vml]>
<![endif]>
These two photos of HMS Petersfield were among William Tough's photos. It is unknown whether he was involved.
<![if !vml]>
<![endif]>
The Brisbane Courier (Qld. : 1864 - 1933),
Friday 13 November 1931, page 15
Text Reads:
H.M.S. Petersfield.
ADMIRAL ON BOARD.
H.M.S. Petersfield, a mine- sweeper, which was being used as the Admiral's yacht,
went ashore near Foochow yesterday morning, and became a total loss.
(Australian Press Association.) SHANGHAI, November 12.
H.M.S. Petersfield, carrying Vice Admiral Sir Howard Kelly (Commander-in-Chief on the China station;
and Lady and Miss Kelly, went ashore early this morning on the north side of Tungyung Island, 50 miles east of' Foochow.
The vessel was badly holed fore and aft, and latest advices described her as a total loss, though ail the members of the crew were safe.
The Norddeutscher-Lloyd steamer Derfflinger, which was standing by, reported at midday that the majority of the Petersfield's crew had been landed. The Canadian Pacific liner, Empress of Asia, arrived on the scene shortly before 9 a.m., and H.M.S. Suffolk soon afterwards.
 H.M. Destroyer Seraph travelled full speed from Hong Kong to the scene of the disaster.
The Petersfield was a twin-screw minesweeper, of 800 tons, and was used as the Admiral's yacht.
<![if !vml]>
<![endif]>
Text Reads:
Commander D. C. Lang, captain of H.M.S. Petersfield, was court-martialed for:
1. That he negligently or by default caused the Petersfield to be lost.
2. Negligently or by default did strand the Petersfield.
3. Negligently or by default did hazard the Petersfield.
It was alleged that Admiral Kelly interfered with his command on three occasions, telling Lang that he (Lang) was not there to do as he liked, but to obey orders. Lang stated that he would have stopped the ship an hour before, but in consequence of a message from the Admiral accused told the navigating officer; "We've got to damn well go on, because the Admiral says so." It was submitted that an officer overruled by an Admiral is bound to feel the psychological effect.
The verdict was not guilty on charge one, but guilty on two and three. Captain Lang was severely reprimanded.
Submarine
<![if !vml]>
<![endif]> <![if !vml]>
<![endif]>
Two photos taken inside a submarine 
The boat's name and date is unknown but possibly 1931 and she may be in the photo below.
Click to enlarge
The warship in the harbour appears to be HMS Cumberland. (Year unknown)
<![if !vml]>
<![endif]>
Also among William Tough's Memorabilia was the following item. The rest of your life is a long time to preserve something and it seems it must have been important to him. It so happens that the story of HMS Poseidon did not end with her sinking.
HMS Poseidon (P99) was a Parthian-class submarine launched on 22 August 1929. China secretly salvaged the vessel in 1972.
This website recommends that you look it up.
http://en.wikipedia.org/wiki/HMS_Poseidon_(P99) 
<![if !vml]>
<![endif]>
Click to enlarge
HMS Fitzroy
1933
<![if !vml]>
<![endif]>
Sunk Head Fort
1943
<![if !vml]>
<![endif]> <![if !vml]>
<![endif]>
Two photos – Sunk Head Fort
<![if !vml]>
<![endif]>
Sunk Head Fort from the air (Source – Wikipedia)
Maunsell Naval Forts
The Maunsell naval (sea) forts, built in the Thames estuary and operated by the Royal Navy, were to deter and report German air raids following the Thames as a landmark, and attempts to lay mines by aircraft in this important shipping channel.
There were four naval forts:
The design of these concrete structures is equal to a military grade bunker, due to the ends of the stilts, (under water) that are solidly locked into the ground. Many species of fish live near the fort(s) because the forts do create cover, and have provided landmark references for shipping.
The design was a concrete construction; a pontoon barge on which stood two cylindrical towers on top of which was the gun platform mounting two 3.75-inch guns and two 40 mm Bofors guns. They were laid down in dry dock and assembled as complete units. They were then fitted out — the crews going on board at the same time for familiarization — before being towed out and sunk onto their sand bank positions. The naval fort design was the latest of several that Maunsell had devised in response to Admiralty inquiries. Early ideas had considered forts in the English Channel able to take on enemy vessels.
________________________________________________________________________________________________
<![if !vml]>
<![endif]>
William ("Bill") Tough (right) with his son Fraser (centre) and friend