FREDERICK GEORGE TAYLOR
(Uncle George)
Royal Marine Bandsman
Service Number RMB/X2132
24 Jan 1944 - 7 Jan 1947
Frederick George Taylor
1944
H.M.S. Victorious
1945
Author's Note
As stated previously my Uncle never spoke of his wartime experiences nor did he mention the photo album. Fortunately we have access to
historical details and complete records and we have drawn on these to provide a supporting narrative for the photos in the album.
A full list of those websites may be found at the conclusion of his story and we gratefully acknowledge this assistance.
Photo Enlargement
Most photographs and documents can be enlarged. Simply click on the item you choose.
There are exceptions – these are links to external sites.
War Service
H.M.S. Victorious
Combat Operations 1944
April 2nd
In Force 2 (H.M. Aircraft Carriers Furious, Searcher, Emperor, Pursuer and Fencer) for attacks on Tirpitz in Altenfjord, Norway. (Operation Tungsten)
April 3rd
Launched Barracuda strikes on Tirpitz which was leaving harbour for trials.
Three Barracuda aircraft were lost due to the intense AA fire but several hits were obtained. Repair of damage took over a month.
April 24th
Air strikes on Tirpitz by Home Fleet carriers escorted by the battleship H.M.S. Anson abandoned because of weather conditions (Operation Planet).
Shipping strikes in Bodo area (Norway) instead. Three ships in the enemy convoy were sunk for the loss of six aircraft.
May 15th
Deployed for attacks on Tirpitz with H.M.S. Furious escorted by H.M.S. Anson which were cancelled because of cloud cover (Operation Brawn).
May 28th
Shipping strike when further Tirpitz attack abandoned due to weather over the target (Operation Tiger Claw).
May 30th
An acoustic torpedo (GNAT) attack by U957 failed. Subsequently H.M.S. Victorious made more shipping attacks off Norway (Operation Lombard)
His Majesty King George VI came aboard H.M.S. Victorious for a tour of inspection on 11 May 1944.
H.M. The King On the Bridge H.M. The King 'Going Down' The King and Commander Ross
with Commander 'Flying' Uncle George 2nd from right taking a stroll on the flight deck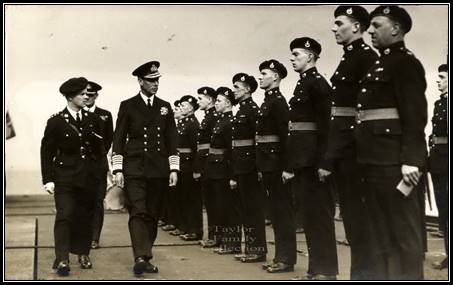 Inspecting Royal Marines Admiral Sir Bruce Fraser, The King and Capt. M. M. Denny
Field Marshal Bernard Law Montgomery, 1st Viscount Montgomery of Alamein, KG, GCB, DSO, PC ('Monty') also paid the ship a visit.
'Monty' aboard H.M.S. Victorious Inspecting air-crews 8 May 44 Pilot explaining his Mae West to Monty
Uncle George left with trumpet (4.5 inch guns in background)
Captain Denny next to Monty
June 1st
Deployed on shipping attacks on German convoys off Norway (Operation Lombard).
Sank minesweeper and merchant ship.
June 12th
Sailed for Ceylon via Mediterranean with H.M. Aircraft Carrier Indomitable.
Algiers – 18 June 1944
Guard and Band at Algiers 18 Jun 44
Algiers from the flight-deck 18 June 44 A good view of Algiers
Roman Catholic Church Algiers French War Memorial Algiers
Street of a Thousand Steps Algiers Street in Algiers - good brandy up the road
Shoe-shine in foreground
Birthday Card purchased in Algiers
Found inside the Birthday Card - Typical Native Woman of Algiers
Alexandria and Suez 24 June 1944
Boulevard Saad Zaghloul Alexandria Khedive Ismail Memorial Alexandria Fuad 1st Street Alexandria
Author's Note:
The Khedive Ismail Memorial is now the Unknown Soldier Memorial in present day Alexandria.
It was originally built by Italian residents of Alexandria but its status was changed to commemorate
fallen naval personnel following the Egyptian Revolution of 1952.
To learn more regarding Pasha Ismail click on the present day photo below.
Unknown Soldier Memorial Alexandria
Nebi Daniel Mosque Alexandria – Suez
Going through the Suez Canal A bit of a swell makes the 'Vic' dip her nose a little
giving the flight deck a wash
Aden
What a dump! - Aden Camel Caravan at Aden
India – Bombay
Gateway of India Central Station Hotel Bombay 1944
Church Bombay 1944 Marine Drive Bombay One of Bombay's modern cinemas
Buddhist Temple Bombay Public Park Native Policeman Bombay
Oxen and cart, horse drawn cart in background - Bombay
Deolali Camp – Bombay
Deolali camp was a transit camp for British troops in Deolali, India, 100 miles north-east of Bombay (Mumbai). It was notorious for its unpleasant environment, boredom, and the psychological problems of soldiers that passed through it. Its name is the origin of the phrase "gone doolally" or "doolally tap", a phrase meaning to 'lose one's mind'. 'Tap' may also refer to the Urdu word tap, meaning a malarial fever.
By the 1940s this had been widely shortened to just "doolally", an adjective meaning mad (insane) or eccentric. The town was the setting for the first four series of the British sitcom "It Ain't Half Hot Mum" set in 1945.
Deolali Camp Dec 1944 Divisions (Religious Service) Church Parade - Deolali
Uncle George behind bass drum in the band
And the Band played on... Scene en route to Deolali Camp Dec 1944 Deolali Camp
Uncle George 3rd from right – back row of band
Deolali Camp Dec 1944 (Uncle George right) Deolali Camp (Uncle George 2nd from right)
Mongoose - Snake fight in Deolali Native Acrobats at Deolali Camp Dec 1944
The role played by the rope in the photo is unknown.
Deolali Camp Dec 1944 Native living quarters Street Scene – Deolali
Water Carriers – Deolali Dhoby Firm - Deolali Camp Fruit 'Walla' on railway station en route to Deolali
'Our Gang' – Children in Deolali Dec 1944
Colombo – Ceylon
7 – 19 July 1944
The Jetty Colombo First view of Colombo from jetty The Jetty from shore-side July 1944
Grand Oriental Hotel (right)
Town Hall Princes Street Galle Face Hotel and Green
Mt. Lavinia Hotel Mt. Lavinia Colombo Beach at Mt. Lavinia
Native Carriers Colombo The Beach at Colombo High-speed Transport Service Colombo
July 6th
Arrived at Colombo and joined Eastern Fleet. Preparation for operations in Indian Ocean.
July 25th
Launched attacks on airfields near Sabang, Sumatra with H.M. Aircraft Carrier Illustrious escorted by H.M. Cruiser Phoebe (Operation Crimson).
Avenger landing 1944
Let there be no misunderstanding.
Flying aircraft off and onto aircraft carriers is a hazardous process at best.
The following photos graphically illustrate the fact that accidents were not infrequent.
A damaged Avenger crash-lands killing Lt. (BATS) Dormand (Deck Landing Control Officer) in Dec 1944.
The plane then slewed over the side and into the 'drink'.
The middle photo shows it falling astern. The pilot was saved – rescued by the ship's Vickers Walrus.
The third photo shows the rescued Pilot being lifted down from the Walrus.
Author's Note:
For more information regarding the remarkable Walrus and its role see: https://en.wikipedia.org/wiki/Supermarine_Walrus
For actual film footage
Just click on the photo below:
A Walrus lands on a Royal Navy carrier after rescuing a pilot while under fire – Nicobar Islands.
(Source – Wikipedia)
Avenger smashes propeller Auxiliary fuel tank drops from a Corsair What's holding her up?
as it takes off - pilot saved. See photo below.
Emergency landing on board H.M.S. Victorious.
A Chance-Vought Corsair's auxiliary petrol tank became detached and burst into flames,
setting fire to the undercarriage during the carrier-borne air attack against the Japanese repair and maintenance centre at Sigli, Sumatra.
In the foreground men can be seen looking down on the aircraft from the bridge of the flight deck.
Source: Photo and details https://en.wikipedia.org/wiki/Operation_Light
In the drink! Accidents make for broken aircraft and big cleanups. They can also be deadly.
Author's Note:
We highly recommend the website:
http://www.naval-history.net/WW2Memoir-Indomitable-Whiteing1.htm
This is an excellent article in 4 parts from naval-history.net re the service of Leading Air Mechanic Maurice C. Whiteing aboard H.M.S. Indomitable in the same theatre of war. Maurice Whiteing's story includes a photo very similar to the accident which killed Deck Control Officer Lt. (BATS) Dormand aboard H.M.S. Victorious. The 2 photos are placed side by side below for comparison.
H.M.S. Victorious H.M.S. Indomitable
Source: http://www.naval-history.net/WW2Memoir-Indomitable-Whiteing1.htm
August 23rd
Covered Eastern Fleet units providing air-sea rescue facilities during a series of attacks by US Army aircraft on Sumatra (Operation Boomerang).
Operation Boomerang
This was an operation by the U.S. 20th Air Force. On August 10, 1944, the group took part with three other groups on the longest single-stage bombing mission of World War II which required a round trip of 4,030 miles (6,490 km) flying from a staging base in Ceylon to Palembang, Sumatra, to bomb the Pladjoe Oil Refinery and mine the river.
Author's Note:
The website http://www.40thbombgroup.org/Tribute.htm gives a first-hand personal account of the experiences of one aircrew
by Ira V. Mathews in a tribute to his combat crew aboard the B29 Super Fortress he flew in the raid.
To view please click on the photo below.
Full Squadron in flight - Super Fortresses of US 20th Air Force
Photo Source: http://www.40thbombgroup.org/Chandler.html
August 29th
Carried out air strikes on Padang, Indaroeng and Emmahaven with H.M.S. Illustrious and H.M.S. Indomitable escorted by H.M.S. Howe and Eastern Fleet units. (Operation Banquet)
September 18th
Deployed with H.M.S. Indomitable for attacks on railway yards at Sigli, Sumatra and photo-reconnaissance of Nicobar Islands escorted by
H.M.S. Howe. (Operation Light) Aircraft made an inadvertent attack on H.M. Submarine Spirit fortunately without causing any casualties. During this operation steering problems were experienced.
September 30th
Docked at Bombay for repairs to steering gear to remedy problems that had arisen during Operation Light.
October 6th
Rejoined Eastern Fleet on completion of repair work.
October 17th
Attacks on Nicobar Islands and Nancowry harbour with H.M.S. Indomitable and escorted by Battlecruiser H.M.S. Renown and Light Cruiser H.M.S. Phoebe. (Operation Millet.) Enemy air attacks destroyed four aircraft and five more were damaged. Further steering problems arose during the mission. Operation Millet was a British naval operation the objective being the execution of naval bombardment and aerial strikes on Japanese positions in the Nicobar Islands, on October 17–20, 1944, in order to distract Japanese forces from an American invasion of the Philippine province of Leyte
(See also: The Battle of Leyte and The Battle of Leyte Gulf)
November 1944
Returned to Bombay for more repair work on steering gear after H.M. Aircraft Carrier Illustrious arrived.
November 16th
Under repair to steering gear at Bombay.
November 22nd
Transferred to British Pacific Fleet on its' formation.
The British Pacific Fleet (BPF) was a multinational Allied force which saw action against Japan during World War II. It was formed at Trincomalee on 22nd November 1944 from elements of the Eastern Fleet and H.M.S. Victorious was transferred to the new fleet.
The BPF was based initially on ships detached from the British Eastern Fleet (a.k.a. British East Indies Fleet, based in Ceylon). It was eventually comprised of ships and/or personnel from the British Royal Navy (RN), British Royal Fleet Auxiliary (RFA). Royal Australian Navy (RAN), Royal Canadian Navy (RCN) and Royal New Zealand Navy (RNZN). The RAN's contribution would undoubtedly have been greater, except that most of its vessels had been integrated with United States Navy formations since 1942. The US Navy also contributed to the BPF, as did personnel from the South African Navy (SAN). The fleet was commanded by Admiral Sir Bruce Fraser; Vice-Admiral Sir Philip Vian was in charge of air operations.
The British Eastern Fleet was responsible for operations in the Indian Ocean, South East Asia and Indonesia (See map below) while the BPF's area of operations was generally east and north of Australia up to Korea and the home islands of Japan.
The USN, which had control of Allied operations in the Pacific Ocean Areas, gave the BPF combat units the designation of Task Force 57 (TF-57), and later made it part of Task Force 37 (TF-37). Major actions in which the fleet was involved included the invasion of Okinawa in 1945. Towards the end of the war, it had sole responsibility for operations in the Sakishima Islands. Battleships and aircraft from the fleet also attacked the Japanese home islands. The BPF would also have played a major part in a proposed invasion of the Japanese home islands, known as Operation Downfall, which was cancelled after Japan surrendered.
The fleet included 17 aircraft carriers (with 300 aircraft), four battleships, 10 cruisers, 40 destroyers, 18 sloops, 13 frigates, 29 submarines, 35 minesweepers, other kinds of fighting ships and many support vessels. Because of their armoured flight decks, the RN aircraft carriers proved highly resistant to kamikaze attacks and some survived direct hits with minimal damage.
A Canadian naval airman who served with the BPF, Lt. Robert Hampton Gray, based on H.M.S. Formidable was awarded the Victoria Cross, following his death in an attack on Onagawa Wan, Japan, on August 9, 1945.
Following the end of hostilities, the fleet formed the naval arm of the British Commonwealth Occupation Force in Japan.
From November 1944 until January 1945 the BPF stayed in the Indian Ocean, training and gaining the experience they would need when working with the United States Navy. H.M.S. Victorious, however, remained under repair at Bombay until January, 1945 and missed raids on oil refineries at Pangkalan Brandan. (Operation Robson)
In early January, 1945, she was available for Operation Lentil, a repeat raid on the oil refineries at Pangkalan Brandan with H.M. Ships Indomitable and Implacable. Further raids on Japanese oil and port installations in Sumatra were made on 16 January.
By late January, the BPF had finally quit Ceylon and was en route to its new home base in Sydney, Australia.
Christmas 1944
Christmas Card 1944
Christmas - Concert Party Variety Acts
Admiral Philip Vian aboard Victorious Dec 1944 Admiral Vian CinC of AC's British Pacific Fleet Captain Denny and Lord Louis Mountbatten
Lord Mountbatten and Capt. Denny (right) takes the march past of ship's company
Trincomalee 24 Dec 1944
1 9 4 5
Operation Outflank was the first combat operation of the British Pacific Fleet (BPF). It was a series of raids by the Fleet Air Arm on the oil refineries and storage facilities of the Empire of Japan on the island of Sumatra.
It consisted of:
Operation Lentil (4 January 1945)
Operation Robson (20 December 1944)
Operation Meridian I (24 January 1945)
Operation Meridian II (29 January 1945)
See also: http://www.combinedfleet.com/SumatraOil.htm
This is an informative article by Bob Hackett titled - Oil Fields, Refineries and Storage Centres Under Imperial Japanese Army Control.
Royal Dutch Shell oil refineries in Sumatra included Pangkalan Brandan and Pladjoe (Pladju) and Standard-Vacuum Oil Company's (Stanvac)
refinery at Sungei (Soengai) Gerong.
Units participating in Outflank received the "Palembang 1945" battle honour, after the main target of the attacks - the refineries at Palembang.
January 4th
Joined H.M.S. Indomitable and H.M.S. Implacable for air strikes on oil refineries at Pangkalan Brandan covered by Eastern Fleet TF 63 (Operation Lentil).
Operation Lentil
A force under the command of Rear Admiral Aircraft Carriers, British Pacific Fleet, Rear Admiral Sir Philip Vian, KBE, DSO, and consisting of Indomitable (flag), Victorious, Indefatigable, Argonaut, Black Prince, Ceylon, and eight destroyers of the 25th and 27th Destroyer Flotillas, and Suffolk left Trincomalee on 31st December for Northern Sumatra.
On the morning of 4th January 1945, carrier aircraft were flown off to attack the oil refineries at Pangkalan Brandan and successfully completed the operation. Photographic reconnaissance was also made of port installations at Belawan Deli,Brandan, and Soesoe. The Force returned to Ceylon on 7th January.
January 16th
With British Pacific Fleet ships as TF63 attacked refineries in Sumatra.
January 20th
Task Force 63 rendezvoused with Task Force 69 of the British Eastern Fleet, three escorted tankers. The refuelling was completed with great difficulty because of gusting winds and a troublesome swell. The oilers complained of much pumping gear being damaged.
While at sea on active service refuelling and ship to ship transfers were necessary. Such operations were not without risk. Weather, sea conditions and proximity were major factors.
The RN transferred fuel at sea using hoses trailed astern of the tankers since they lacked catamarans to keep ships apart and the appropriate derricks and block and tackles to sail side by side while fuelling. Admiral Vian called this method 'an awkward, un-seaman like business. This approach was dangerous and resulted in incidents like the one on 3/5/45 when H.M.S. Uganda fouled one of her propellers on a hose. Because of the method used it took the RN twice as long as the USN to replenish their ships. When the RN mastered the techniques that the US Pacific Fleet had mastered, such as having ships refuel abeam of their tanker, the time required was reduced.
Source: http://www.naval-history.net/xGM-Chrono-01BB-KGV.htm#iceberg
Ship to ship transfer (possibly mail and despatches) H.M.S. Wager (R98) to H.M.S. Victorious. Crew members are in wet weather gear.
Ship's name unknown – possibly H.M.S. Nepal Refuelling at sea with Task Force 69
Royal Fleet Auxiliary: Empire Salvage (left)
January 24th
The month's second attack on Japanese oil supplies was made, this time in the Palembang area of southern Sumatra.
The force which left Trincomalee on 16th January with orders to proceed to Fremantle on completion consisted of Indomitable (Rear Admiral Aircraft Carriers, British Pacific Fleet), Indefatigable, Victorious, Illustrious, King George V, Black Prince, Argonaut, Euryalus, Ceylon, and eleven destroyers of the 25th and 27thDestroyer Flotillas (Ceylon and one destroyer escorted a refuelling force and were ordered to return to Ceylon on completion).
The target for 24th January was the Pladjoe refinery north of Palembang. The attack was delayed by poor weather from 21 January and the fleet waited off Enggano Island until 6 am on the 24th with a lack of wind making take-off more risky.
Forty-three Avenger bombers, 12 Firefly fighter-bombers with rockets and fifty Hellcat, Corsair and Seafire fighters were launched, approaching with the sun behind them and diving from 9000 feet to 3000 feet to release their bombs. Despite the presence of barrage balloons the refinery was successfully attacked. There were more losses than on previous raids and 32 aircraft were lost due to enemy action and crash landings.
Manna, S.W. Sumatra was attacked in a second strike. There was little opposition from enemy aircraft.
Avenger over Sumatra Avengers flying out on attack Avenger ready to take off
Refinery at Pladjoe under attack - Operation Meridian One at Palembang
Operation Meridian
26th and 27th January
The fleet refuelled again on 26–27 January. In practice, this was unsatisfactory as, with a mixture of poor weather and inexperience, the tankers suffered damage as ships failed to keep station and hoses parted.
Operation Meridian II
January 29th
Attacks on oil installations at Soengei-Gerong on the opposite side of the Musi River to the Pladjoe installation with damage to several aircraft. Retaliatory air attacks were beaten off. Losses by all Carriers were 16 aircraft in action and 25 lost by ditching or when deck landing.
Despite poor visibility, the flying-off was delayed by less than half an hour and the air strike was made against the oil refinery. Allied aviators claimed 30 Japanese planes shot down in dog-fights and another 38 destroyed on the ground. A small Japanese counterattack was attempted, but was defeated by fighter cover and anti-aircraft fire.
Execution of Prisoners of War by the Japanese.
Although Operations Meridian I and II were successful they cost the Task Force lives in a manner which must have infuriated their comrades. Whether simply an act of revenge or intended as a deterrent will never be known. War is barbaric but these executions were doubtless viewed as criminal.
From a modern perspective it would be charitable to reflect on the difference in cultures, that all non Japanese were considered inferior, (number 10 citizens) and that Japan by 1945 knew it was in a war for national survival – that any and all means were necessary to defend the home islands.
But as these executions were after the surrender they must surely rank as war crimes.
Their names and details:
Sub Lt. J. R. Burns, Sub Lt. D. V. Roebuck and P.O. I. Barker TAG 849 Sqdn Avenger failed to return from Palembang on Operation Meridian
II. (The raid on Songei Gerong oil refinery) The aircraft was shot down but seen trying to force-land, smoking into the jungle. All crew survived and
were taken prisoner by the Japanese. All were executed at Changi Prison by the Japanese on 15 August 1945 - the day Japan surrendered.
Lt. E.J. Baxter, RNZN, Corsair pilot of 1833 Sqdn, H.M.S. Illustrious. He took part in the attack on Songei Gerong oil refinery, Palembang,
Sumatra. He received flak damage, and bailed out on return after the operation. He landed safely in a valley, near Simpang, and was seen by his
FAA colleagues running down a hill. He was taken prisoner by the Japanese who executed him sometime between 18 and 20 August 1945.
(After the surrender)
Lt. J.K.T. Haberfield, 1839 Hellcat Sqdn of HMS Indomitable failed to return after Operation Meridian. He became a Japanese POW and was
executed at Changi Beach 18 - 20 August 1945.
K.M. Burrenston, Lt. W.E.J. Lintern, and P.O. W.J.S. McRae, TAG 849 Sqdn Avenger, failed to return after Operation Meridian II, Palembang.
During their bombing mission they were shot down and (on fire) crashed into a river. All survived, were taken P.O.W. and executed at Changi
Prison 15 - 20.8.1945.
Sub Lt. T.J.A. Shaw, 1833 Corsair Sqdn, failed to return after Operation Meridian I, Palembang attack. Last seen heading north over the airfield
with two Japanese Tojo aircraft on his tail. Shot down and taken P.O.W. he was executed in August 1945.
Source: http://www.fleetairarmarchive.net/rollofhonour/pow/FAA_POWHomepage.html
Aftermath of Executions
When the prime culprits were finally identified (October 1945) and an arrest sought the two men concerned chose to take responsibility and committed suicide. They were Captain Toshio Kataoka, who was the senior officer, and a Captain Ikeda. They were particularly identified by General Atsuka, Chief of the Judicial Department of the 7th Area Army, Singapore.
Kataoka in a will made before his suicide stated:
We took nine prisoners from Outram Road in a lorry to the beach at the northernmost end of Changi and executed them with Japanese swords.
The bodies were put in a boat prepared beforehand and sunk in the sea with weights attached. Now that the responsibility must be borne out publicly, I hereby pay for my deeds with suicide.
As a result of Operation Meridian the critical aviation fuel output of the plants at Palembang was reduced by seventy-five percent and the opportunity was taken to stress British naval strength available in the Far Eastern waters by publication of names of the units which took part in this dual operation.
30th January 1945
Task Force 63 refuelled from Task Force 69 for the final time and sailed for Fremantle, Western Australia. Task Force 69 returned to Trincomalee.
10th February
Transferred to Task Force 113 at Sydney to prepare for service with US Navy.
28th February
Sailed from Sydney for Manus with H.M.S. King George V and rest of TF 113.
Sydney to Manus
Sydney Australia 1945
HMS Victorious in Sydney Harbour 1945 – Royal Marine Band in foreground
Sydney Cenotaph 1945 HMS Victorious at naval base in Sydney Harbour Walking the Sydney Harbour Bridge 1945
Sydney 1945
25th March
Arrived at Ulithi and joined 5th US Fleet as Task Force 57.
26th March
Deployed to neutralise airfields in Sakashima Gunto Group. (Operation Iceberg I)
Air attacks with H.M.S. Illustrious, H.M.S. Indefatigable and H.M.S. Indomitable.
Kamikaze attack
1st April
H.M.S. Victorious endured her first kamikaze assault. She was already scarred by a fatal Seafire crash. Aircraft from H.M.S. Indefatigable landed on her when their own Flight Deck was put out of action for a brief time – 37 minutes. Sub-Lieutenant Norman Quigley, RNVR one of the pilots so diverted missed the arrester wires and crashed into the barriers. He later died of his injuries.
Bogies were detected at 1730, and one evaded the fleet's Combat Air Patrol (CAP) in low cloud and came in low at 500 feet.
Captain Michael Denny cleared the bridge and coolly watched the aircraft's approach from the bridge wing.
"The fleet was being manoeuvred in a succession of starboard turns during the initial approach of this aircraft".
"When it was judged that this aircraft was probably making for Victorious I increased the rate of swing by using more 'rudder.' He approached as
for a deck landing for a 'right hand circuit'. Banking to keep over the deck, he was out-swung by Victorious and his starboard wing touched down
on the port flight deck edge at 45 Station, spinning him into the sea. His bomb detonated under water about 80 feet clear abreast No. 8 Station
Port. As he was close down over the flight deck the whole way to the point of touching down it appeared as if he was doing his best to turn with
the swinging ship but could not make the turn tight enough. The aircraft was believed to be a JILL or ZEKE. The detonation threw tons of water, a
quantity of petrol and many fragments of the aircraft on to the flight deck."
The ship herself escaped damage.
(Source: Vintage Wings of Canada)
Author's Note:
Lieutenant Don Sheppard was a Canadian naval pilot and ace during World War II. The account of his naval career is compelling reading and well supported with great photographs. It provides a pilot's perspective on the events covered in this article and we heartily recommend it to our readers.
To view simply click on the following photo.
A6M Zeke "suicider" exploding in the sea beside H.M.S. Victorious on 1 April 1945
It includes the following photo of Captain Denny and comment on his Captaincy.
Captain Michael Maynard Denny GCB CBE DSO was the Commanding Officer of H.M.S. Victorious throughout Don Sheppard's time in the ship.
"A short stocky man with bushy eyebrows, known as a strict disciplinarian" Denny quickly won the respect and admiration of his sailors and aircrew.
Throwing his large carrier around like a destroyer, his coolness and brilliant ship-handling under kamikaze attack in May 1945
helped save Victorious from serious damage.
(Photo source: Imperial War Museum)
On high alert Lined up for take-off Auxiliary Fuel Tanks (Uncle George in shorts)
Uncle George manning the anti-aircraft gun
(Second from camera - left)
9th April
Detached with TF57 ships for attacks on Formosan airfields. (Operation Iceberg Oolong)
12th April
Avenger aircraft from H.M.S. Victorious attacked Matsuyama Airfield in Taihoku (now Taipei) and shipping off Tamsui in northern Taiwan
Sub-Lieutenant Daniel McAleese was shot down, rescued, but later died of his wounds.
13th April
Avenger aircraft attacked Matsuyama Airfield damaging runways and barracks. One ammunition dump or oil storage tank exploded.
Avenger aircraft attacked Shinchiku Airfield in Taiwan causing unknown damage to the runways.
Avenger aircraft en route back to the carrier after attacking Matsuyama Airfield strafed 12 aircraft on the ground at Giran Airfield in north-eastern Taiwan. Actual damage caused by the strafing was unknown.
16th April
Returned to operations off Sakishima Gunto group with BPF aircraft carriers. (H.M. Ships Formidable, Indefatigable and Indomitable.)
Attacked targets at Ishigaki and Mikayo with refuelling breaks until 20 April 1945.
Waiting for the aircraft to return Hellcat ready to take off H.M.S. Illustrious
1st May
Sailed with TF57 to join US TF58 off Sakishima Gunto. (Operation Iceberg II)
Author's Note:
The website http://www.armouredcarriers.com/iceberg-ii-british-pacific-fleet
contains film footage of Kamikaze attacks including the attack on H.M.S. Formidable
To view this site just click on the following photo.
The following references apply.
Pacific
For more on the Kamikaze menace see also:
https://en.wikipedia.org/wiki/Kamikaze and http://military.wikia.com/wiki/Kamikaze
An air battle was waged against Sakishima Gunto's two largest islands that lasted for 82 days in order to neutralize the Kamikaze airfields. Twenty-five US escort carriers, five larger fast carriers with their air groups consisting of fighters and torpedo bombers along with heavy naval patrol bombers and an assortment of DD-Destroyers and DE-Destroyer Escorts along with the British Pacific Fleet bombed, rocketed and fired their guns at runways and other targets daily while the land battle raged at Okinawa 175 miles away. This was the least publicized battle for its size that took place involving the Americans during the war.
The thirty-two thousand seasoned Imperial Japanese Army (IJA) and Naval (IJN) troops on Miyako-jima did not surrender until 27 days after Japan formally surrendered. The amount of ordnance expended against the Sakishima islands may have exceeded the ordinance spent on the island of Iwo Jima. The Sakishima Islands did not suffer a ground war during World War II.
In June 1945, the Japanese government ordered locals to evacuate to northern Ishigaki and Iriomote, where 3,647 of them lost their lives to malaria. In contrast, air raids killed much fewer: 174. After the Imperial Japanese Army was defeated on Okinawa later that month, there was a vacuum of military and government in the Sakishimas. Some garrison troops robbed crops from farms or engaged in violence against locals. To counter them, the residents of Ishigaki formed the Yaeyama Community Association. Since it acted as a temporary local government, some historians later described the association as the Yaeyama Republic. United States Occupation authorities declared the establishment of military rule in December 1945, restoring Miyako Subprefecture and Yaeyama Subprefecture. The local association ceased. In 1952, the Treaty of San Francisco confirmed these islands to be under American control.
Malaria was eradicated from the island in 1961. The islands were restored to Japan in 1972, with other parts of Okinawa Prefecture.
4th May
Concentrated Kamikaze attacks and 7 destroyed but 3 hit selected targets. One exploded on island structure causing fires and damage to boiler steam piping. Speed reduced to 19 knots. Air operations resumed after 8 hours.
Just before the attack
Kamikaze diving on HMS Formidable Impact! Kamikaze strike on HMS Formidable
Fire on H.M.S. Formidable after strike H.M.S. Formidable on fire 4 May 1945. (Source: Wikipedia)
The aircraft carrier H.M.S. Formidable (R67) on fire after being struck by a Kamikaze off Sakishima Gunto. H.M.S. Formidable was hit at 1130 hrs, the kamikaze making a massive dent about 3 m long, 0.6 m wide and deep in the armoured flight deck. A large steel splinter speared down through the hangar deck and the centre boiler-room, where it ruptured a steam line, and came to rest in a fuel tank, starting a major fire in the aircraft park. Eight crew members were killed and forty-seven were wounded. One Vought Corsair and ten Grumman Avengers were destroyed.
American Aircraft Carrier after Kamikaze strike (Probably USS Intrepid)
Author's Note:
It is difficult to convey the intensity of the conflict the Fleet endured.
Film footage taken aboard the USS Enterprise (CV-6) gives some insight into this.
To view click on the following photo:
Photo source: Wikipedia
(Victory in Europe)
8 May 1945
The writing on the bomb says it all.
Regarding the same photo James C. Jack, Radio Mechanic in 1834 Squadron, R.N.A.S. aboard H.M.S. Victorious commented:
Bombing-up on VE +1 Business as usual!
I was a Radio Mechanic in 1834 Squadron, R.N.A.S. on board HMS Victorious, operating as part of the US Pacific Fleet, under the command of
Admiral Chester Nimitz, U.S.N.
The news of D-day was celebrated on board by the Captain, M.M. Denny ordering "Splice the Mainbrace".
The celebration was, however, somewhat muted and one could sense a certain amount of resentment in relation to the celebrations in London, while
as far as we were concerned the war was very far from over. This fact was driven home the following day, when as the photo shows, the Avenger
squadron was being "bombed up" for that day's strikes on Japanese airfields, these attacks being designed to stop the flying of Japanese replacement
planes to Okinawa where there was an on-going American landing.
A few weeks later we were back in the area again, but a bit further north, actually attacking targets on the Japanese "mainland". While we were there
the atom bombs were dropped on Hiroshima and Nagasaki. In spite of that, however our planes continued for a day or two with their own bombing
raids.
Little wonder that the air crews showed a somewhat lukewarm enthusiasm for these raids, when you compare the size of the bombs they were
dropping (as in the picture) with the megatons that the A- bomb represented. However, there can be little doubt that the dropping of the A-bombs
saved the lives of countless allied servicemen, for I am convinced that the Kamikaze attacks would have increased a thousand-fold once the home
islands of Japan were attacked. Who knows? The ultimate deterrent may have done just that and made the prospect of nuclear war so terrible that it
is unlikely that anyone will ever contemplate it - no matter how power-crazed they are. Anyway, I guess most of us who were fighting in the far
east, were very happy to see the end of the war and the REAL celebration of PEACE that came with VJ day.
Source: http://www.bbc.co.uk/history/ww2peopleswar/stories/24/a4053124.shtml
Uncle George (white singlet) with fellow marines and aircrew
Spirits Up!!
9th May
Launched air strikes on Hirara and Ishigaki. Hit twice in unexpected Kamikaze attacks. The first damaged the Flight Deck, equipment and steam piping in her superstructure but the second failed to explode. 3 killed and 19 of ship's company injured. Capability was reduced due to damaged forward lift but Victorious remained on station and was back in operation within hours.
17th May
Twenty aircraft transferred temporarily to other carriers after damage to flight deck by crashes on landing. Jury barriers rigged and aircraft returned.
Ship remained operational.
25th May
Left operational area.
Postcard from Uncle George to Dad.
1945
5th June
Arrived Sydney for repair and Rest and Recuperation.
16th June
Transferred with H.M.S. Formidable and H.M.S. Implacable to TF37 (US 3rd Fleet) for joint operations with TF38 on Japan in Yokohama - Tokyo area.
Note: This was due to a reorganisation of naval command structure by US Navy.
28th June
Sailed from Sydney with ships of TF57 for Manus.
Jack and Uncle George – The debonair duo.
Sydney June 1945
6th July
Sailed from British forward base at Manus for operations off Japan.
16th July
Joined US Third Fleet ships 300 miles east of Japan.
17th July
Aircraft carried cut strikes on airfields in Tokyo area.
18th
Air operations restricted by contamination in carrier petrol refuelling supply system.
24th July
Air strikes on Osaka and in one notable attack in July, aircraft of 849 Squadron from Victorious located the Japanese escort carrier Kaiyo
at Beppu Bay in Kyūshū and attacked her, inflicting serious damage that kept the ship out of the remainder of the war.
9th August
Attacked airfields and shipping in North Honshu and Hokkaido.
Author's Note:
One of the reference sites we accessed was The Royal New Zealand Navy Official History of New Zealand in the Second World War 1939–45.
An authoritative and extremely well researched publication (albeit with an emphasis on New Zealand) it contains a comprehensive account of the final days and attacks on Japan. It is well worth visiting and we recommend it to the viewer. To view simply click on the Victoria University icon below:
Victory over Japan
15 August 1945
The two atomic bombs were dropped on Hiroshima and Nagasaki on 6 and 9 August, respectively, and Japan surrendered on 15 August.
12th August
By the time of the surrender, the outcome of the war was clear and Victorious left for Manus with Task Force 37 and then proceeded to Sydney.
Withdrawal of British Pacific Fleet from the operational area was due to the lack of fuel from British sources. Only a Token force remained as part
of the US Third Fleet. The BPF commander had agreed to stay for one more day of operations, but the British arrangements could not stretch to a further delay and fuel shortages were insurmountable. Steering and machinery problems during service prior to deployment in the Pacific continued.
31st August
Ships company took part in the Victory Parade at Sydney.
Uncle George on leave Royal Marine Band – march past in Sydney 31 August 1945 Victory in Japan (15 Aug 1945)
Sydney 1945 March Past - Sydney 31 August
Captain M. M. Denny and Admiral Sir Bruce Fraser Admiral Sir Bruce Fraser
On the Flight Deck of H.M.S Victorious
Australian Prime Minister Ben Chifley (folder under arm) Inspection of Marines
Admiral Sir Bruce Fraser 6th from left. The lady (front right) March Past in Sydney 31 August 1945
is possibly Dame Annabelle Rankin who was the first Inspecting Officer: Prince Henry, Duke of Gloucester
woman from Queensland to sit in the Australian Senate. Governor General of Australia 1945-1947
Victory Celebration in Sydney
For a glimpse of the joy with which Australia celebrated the end of World War II we suggest the following newsreel.
We understand that the pubs had run out of beer by mid afternoon but that the party went on most of the night.
To view just click on the photo below.
The Dancing Man – VJ Day Sydney 1945
(Photo – Wikipedia)
See also: https://en.wikipedia.org/wiki/Victory_over_Japan_Day
Crossing the Line
1945
During the course of combat operations and despite that pressure the crew of H.M.S. Victorious
nevertheless continued to maintain the time honoured traditions of the Royal Navy.
The Captain and The King (Neptune) The Court and the charges
Shaved! "Pills" and "Medicine" Uncle George - Dunked
(Nearly drowned)
Afterwards
Likewise the men's fitness and morale could not be ignored.
The Flight Deck was the logical place for such activities.
Flight deck exercise
Boxing matches were also popular
And the band played on...
On the flight deck (Uncle George 4th from left)
Ship's Marines 1945
Uncle George 10th from right - 4th row from front
Author's Note
We have fitted a Magnifier to the above photograph.
If you hover your pointer over the photo you may scroll in for close-ups on individual faces.
Post War Notes
H.M.S. Victorious sailed for the UK from Australia in September 1945 and arrived on 27th October.
My Uncle George was released from service on 7 January 1947.
The ship was subsequently deployed on trooping duties and undertook three trips to collect servicemen and war brides of British servicemen from Australia and the Far East. In October 1947 after her third trip she was reduced to Reserve status and made part of the Training Squadron, Home Fleet.
In the winter of 1946 – 47, the first deck trials with the Hawker Sea Fury (Mark 10) took place aboard H.M.S. Victorious, leading to her being approved for carrier operations in early 1947.
The ship was extensively reconstructed and modernised and in dockyard hands between 1950 and 1957. Her radar fit was extensively altered to include new design equipment.
HMS Victorious in 1959
British and U.S Navy aircraft parked on the flight deck.
Photo source: Wikipedia;
After re-commissioning on 14th January 1958 she remained in Fleet service until 1967 and took part in Operation Vantage in support of Kuwait in 1961.
Although intended to refit for further service in 1967 this had to be cancelled after a serious fire in November that year which made further refit work
uneconomic. The ship was then reduced to Reserve status once again and placed on the Disposal List in 1969. She was sold later that year to British Ship-breakers and towed to Faslane for demolition arriving there on 13th July 1969. During service she had been deployed in most parts of the world and had rendered outstanding service in peace and war.
The following photos were found tucked away in my Uncle's photo album.
The publication they came from is unknown.
These 5 photos above may be viewed individually. Click on the reduced photos below for enlargement.

Postscript
The "Last Mission"
In the excerpt from Naval-History.Net - H.M.S. King George V extensive precautions were taken by the Fleet in the final days of the war against Japan.
Treachery by the Japanese was expected and prepared for notwithstanding the official declaration of surrender. In the course of preparing this article
we came across the following website which provides an interesting and unexpected story.
It is the story of a B29 mission that became known as "The Last Mission" (amongst the men of 58th 73rd and 313th Wings of the U.S. Army Air Force).
The site gives details of the raid, the crew members of a B29 named "Boomerang" and an attempt by Senior Officers of Japan's Military to stage a revolt and prevent the Japanese Emperor's surrender broadcast. Had they succeeded history would be very different.
The B29 dropped her bombs 2 hours and 18 minutes after Japan's acceptance of peace had been transmitted to the Allies.
She did not receive the news that the war was over until on her way home.
For details see: http://www.jahitchcock.com/mission/b29.htm
List of Websites utilised in research:
https://en.wikipedia.org/wiki/HMS_Victorious_(R38)
https://en.wikipedia.org/wiki/HMS_Formidable_(67)
http://www.naval-history.net/WW2Memoir-Indomitable-Whiteing1.htm
http://www.40thbombgroup.org/Tribute.htm
http://www.combinedfleet.com/SumatraOil.htm
http://www.naval-history.net/xDKWarDiaries-Contents.htm
https://en.wikipedia.org/wiki/Category:World_War_II_operations_and_battles_of_the_Southeast_Asia_Theatre
British Pacific Fleet
https://en.wikipedia.org/wiki/British_Pacific_Fleet
August-October 1945 (Occupation of China coast)
British Pacific Fleet Operations
http://www.naval-history.net/xGM-Chrono-01BB-HMS_King_George_V.htm
This site contains a detailed record regarding the operations of the British Pacific Fleet including H.M.S. Victorious and we have taken the liberty of reproducing this record for the period 1 January 1945 until the formal surrender of Japan 15 August 1945.
We express our appreciation to naval-history.net for the privilege.
To view this record simply click the following photo:
Eastern Fleet (formerly East Indies Fleet)
The Battle of Okinawa
https://en.wikipedia.org/wiki/Battle of Okinawa
http://www.historyofwar.org/articles/battles_okinawa1.html
http://www.historyofwar.org/articles/battles_okinawa2.html
Pacific
http://www.vintagewings.ca/VintageNews/Stories/tabid/116/articleType/ArticleView/articleId/475/Navy-Blue-Fighter-Pilot-Episode-Three-Until-the-Bitter-End.aspx
http://royalnavyresearcharchive.org.uk/BPF-EIF/index.htm#.VkWZ69IrJNA
http://nzetc.victoria.ac.nz/tm/scholarly/tei-WH2Navy-c25.html (An account of the final days and attacks leading up to V.J. Day)
Back to:
HMS Victorious - Frederick George Taylor